I have been knitting and sewing since I was in the sixth grade.   Mrs. Bileau taught me how to knit and I learned to sew from my Mother and my Home Economics teacher Mrs. Johnston. I am a self-taught quilter, which means I am not perfect nor do I want to be. I prefer the fun of designing and the satisfaction of completing projects. I am a yarn and fabric addict. My dream is to someday own a mortar and brick yarn shop but until then — I have a point and click shop on Etsy!
I call my shop "Our Lodge In The Woods" .  Check it out and while there look at all the fan tab u lous stuff on Etsy.com.  It's an awesome place to buy unique, hand crafted, treasures!
I have made hundreds of hand knit Christmas stockings.  Every family member and all my friends have one, so now I post on Etsy so others can purchase.
My other favorite thing to make is the small quilted USA flag wall hangings.  It's fun to select the red, white and blue calico fabrics.  No two flags are alike.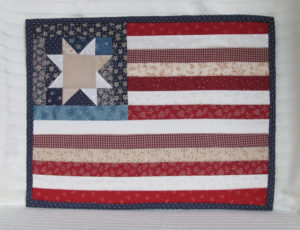 The most exquisite thing I've made are these knitted and felted wool bowls for holding anything — apples, keys, cell phone, pipes, nuts, twigs — you name it! I use Lamb's Pride 85% wool and 15% mohair double strand yarn to knit these beauties and then felt by using the hot to cold water bath process three times to shrink to a good tight bowl.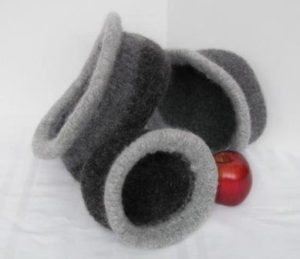 Here are some samples of what my customers say about the
treasures they found and purchased at my
"Our Lodge In The Woods" online shop on Etsy!
Love my stockings and so does everyone who comes into my home. I'll have these for many years to come.
I have 6 of Karla's stockings and love every one of them!! Get so many compliments on them every year
Definitely a quality heirloom! I love my stocking!
Shipping was in 2 days!! Beautiful stockings. Karla does great work and will be using these for many years to come.
The stockings were beautiful. The quality of the workmanship is outstanding. Thinking these would be great gifts for new babies of friends. Definitely a heirloom. Will order from again!
Nice mats or basket liners. Great colors.
Love it!
Received quickly and they are even more adorable in person. Thank you Karla for such wonderful service!
Karla was great. Kept in touch and made sure I received my stockings! She does EXCELLENT work and I have told everyone about her!!
Thank you so much for this beautiful piece of artwork! It is gorgeous and will look tremendous in my renovated room
These were great and looked so good on our mantel over the holidays. Thank you!!
I absolutely love my stocking! I saw it and knew my husband would love it – the picture doesn't do it justice. It's now hanging from our mantle. Smooth transaction, fast shipping, lovely communication. Thank you and Merry Christmas!
Gosh! What fast service! Just ordered Friday and it arrived on Monday! And I LOVE the stocking! Hope you keep making them and selling on Etsy! Beautiful knitted Christmas Stocking! Excellent Seller!