I can't begin to tell you how much I love doing genealogy!  Dortha Walters, my husband's aunt, is to blame!  Aunt Dot provided us a detailed family tree of the Wright and Bozwell ancestors for Christmas one year.  Then I hooked up with my cousin's wife, Cheryl Rigdon, to embark on frequent exchanges of Rigdon family genealogy.  First we used US mail and trips to libraries and public document warehouses.  Those trips were fun, but when email, the internet and digitized records came about — well, my life could not have been sweeter!
Larry and I have visited many cemeteries, museums, homes and even the U.S. Archives in Washington, D.C.  We have discovered so much, learned a lot and enjoyed it all (well most of it).
I maintain a complete database with many photographs for our four family lines on TribalPages.com.  (I pay the annual membership fees — visitors see everything for free.)  Please visit these sites! This is a public site.  You will be able to see everything except information on living people.  I will share the access code to see living information with family members upon request.
Go to:  IowaWrightClan.TribalPages.com  to see the ancestors and relatives of Paul Wright
Go to:  IowaBozwellClan.TribalPages.com to see the ancestors and relatives of Lanora Bozwell Wright
Go to:  IowaRigdonClan.TribalPages.com to see the ancestors and relatives of Paul Albert Rigdon
Go to:  IowaHemsathClan.TribalPages.com to see the ancestors and relatives of Darlene Mae Hemsath Rigdon
I also maintain complete records and photographs on Ancestry.com.  ($199 a year membership)  However, my databases are private.  If you are family and want to see my databases I will grant you permission.  You do not have to subscribe to Ancestry.com.  Just ask me!
All of my records are maintained using RootsMagic software (with a one time purchase) which I keep on my hard drive and back up to Drop Box.  If anyone is super interested in establishing their own database I can provide a GEDCOM file and/or connect you with Drop Box in the cloud to get you started.   The fun is in the searching though — so I'll help you get started — but it is up to you to find the family history treasures along your own way!
The Rigdons have a dedicated website for the family of John and Anna Rigdon.  There you will find updated information about our Rigdon annual family reunion, bios on their twelve children, their life stories, family tree charts and some genealogy information about the Rigdon and Barron lines.  Oh yes, and some captivating pictures!  This is a public website and anyone can see everything!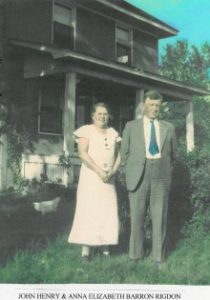 To my Rigdon relatives:  we are eligible to join the The Hereditary Order of the Signers of the Bush Declaration of 1775.  I joined and attended an annual meeting in Harford County, Maryland — where our Rigdon ancestors lived.  For a complete description of this society and its history and purpose see the write up in Wikipedia.  Alexander Rigdon is our ancestor who was a signer to this declaration of independence in 1775.  So cool!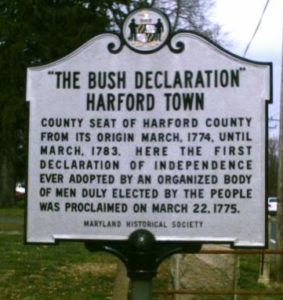 It is hard to decide which of our many exploratory adventures have been most fulfilling.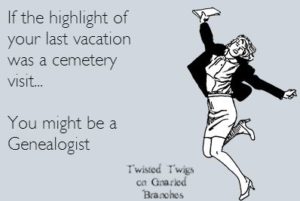 Some of the best are:
Finding and visiting with Tom Barron and his wife in Somerset County, Pennsylvania and visiting the country cemetery on his farm.  An amazing day!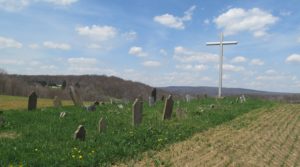 Finding the Civil War records for Larry's Great Great Grandfather, James Stinson at the National Archives in Washington, D.C. was monumental and then finding his headstone in a Lemon, Missouri cemetery  was rewarding because we only had vague information that he was buried somewhere in Lemon.
Finding and visiting the Emory United Methodist Church Cemetery in Harford County, Maryland where Eli Rigdon is buried was a grand reward.  We knew he was buried there — but actually visiting the site was a goal for a long time.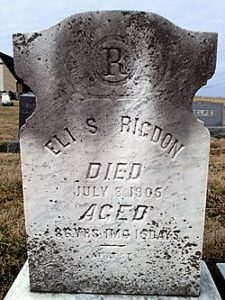 One of our first exploratory trips was to Champaign-Urbana, Illinois where John Henry Rigdon was born.  We found the cemetery where Dallas and Elizabeth Rigdon are buried in the Davis Cemetery, in Pesotum, Illinois.