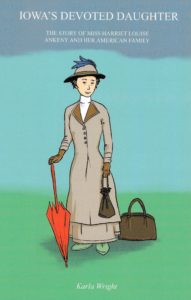 When you open this book you will become friends with Miss Harriet Louise Ankeny.
The Ankenys were prominent and influential early Iowans.   They lived adventurous, interesting and successful lives as settlers, gold miners, civil war officers, business developers, elected officials, suffragettes, city founders and much more. Their remarkable lives are chronicled and woven within interpretive story-telling to create an entertaining and educational memorial to their legacy.
Feelings of love and sorrow, achievement and loss, joy and anguish, trust and abandonment within the Ankeny family are told through the eyes of Miss Harriet Louise Ankeny.  She was a precocious child born in 1844 who grew into a woman with unique ambitions for her time. She was known for hosting family parties and political events.  She traveled throughout America and the world by horse and carriage, stage coach, train, steam ship and eventually motor car.  She was patriotic, a D.A.R. member and delegate from Iowa to the national convention in Washington, D.C.
Harriet Louise loved traveling but loved homecomings even more.
This book is fiction but based on real lives.  The relationships, feelings and beliefs have been developed to create an interesting story.  The names, dates and places are real and over 200 end notes provide documentation.  The book is a combination of story-telling, genealogy, Iowa and American history.
If this summary has motivated you to learn more about the book and the Ankenys, please go to Iowa's Devoted Daughter website and fall in love with this family!
==========
Message From The Author:
My genealogy research revealed an Ankeny ancestor from Somerset County, Pennsylvania.  I always wondered if there was a connection to Ankeny, Iowa.  And YES there was!  And so my journey began.  As I learned more and more about the Ankeny family and their remarkable lives, I began to imagine what their lives must have been like.  As I documented facts about the family — dates, names, places, awards — I knew I had to share the information with the Ankeny descendants.  This idea of writing a story about them came to me suddenly and out of the blue.  I started in the middle — the Civil War years.  Almost every day for almost a year I researched facts and wrote fiction based on facts.
My research took me to the Research Center and the Archives of the Iowa Historical Museum.  There I found hundreds of artifacts donated to the museum by the Ankeny family, including portraits, civil war items, family bibles, and much more.  The orange parasol and green shoes shown on the front cover of Iowa's Devoted Daughter are examples of the items maintained in storage at the Iowa Historical Museum in downtown Des Moines.  The writings of Mr. Johnson Brigham of the early 19th century were crucial to my understanding of the Ankeny family and their place in Iowa history.  The book "Kiss Josey For Me" — a compilation of letters from Henry G Ankeny from three years of Civil War experiences — brought me up close and personal to the Ankeny family members and their devotion to one another and their country.
Getting my book published would be next to impossible without an agent.  I was in no way going to pay an agent.  So I used the self-publishing route.  I used CreateSpace.  They print my book on demand and coordinate the selling on Amazon.  Buy it at:  Iowa's Devoted Daughter .
Since publishing the book I have had the extreme pleasure of meeting many of the Ankeny descendants via facebook and in person.  They have heaped on me hundreds of photographs, original letters and documents and even family china!  I love my newly found Ankeny family.  My presentation about the Ankeny family has been well received at museums and organization meetings.  I love telling their story.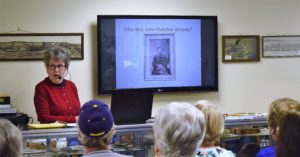 The Ankeny family website contains tons of information about the book and the family.
===========
About the Author:
Karla Wright is a retired Human Resource Management Consultant with a passion for family history and genealogy. This is Karla's first attempt at writing a fiction novel. Karla is a member of the Daughters of the American Revolution, the Honorary Order of the Society of the Bush Maryland Signers of 1775 Declaration of Independence, Ankeny Iowa Genealogy Chapter, Iowa Genealogical Society, Des Moines Historical Society and State Historical Society of Iowa.
About the Illustrator:
Nathan T Wright is a gifted artist, illustrator and story teller. His work can be viewed at NathanTWright.com. Nathan captured the personalities of the Ankeny family members in their eyes. You can see sadness and happiness, pride and determination, and kindness and love in their eyes.
 ===========
Book Reviews:
Iowa's Devoted Daughter is a quintessential American story of a family's journey over decades of hardship, adversity, triumph, war and success through sheer force of will. The book's central character – Miss Harriet Louise Ankeny – defied traditional gender roles, rejected conventional wisdom and was way ahead of her time. Or perhaps, time was too slow to catch up to her. Iowa's Devoted Daughter is thoroughly and professionally researched. Recommended for anyone interested in the history of Iowa or America's formative years!
I loved the fact-based story that wove so much information about the families. It provided a clear view of family life but also the drive to be successful. The swirl of family gatherings made it interesting to understand the closeness of families. This is a great book to read for not only genealogy enthusiasts but anyone interested in history.
Wonderful read, interesting Iowa history. Good job Karla.
An enjoyable and memorial read about the widely diverse, talented, and community minded family of Joseph and Harriet Ankeny. Harriet Louise Ankeny, one of their many children, is the focus of this story, and for good reason. She was a very intelligent, hardworking, and ambitious women who cared deeply about her state of Iowa and her country.
The book is not only historically accurate, which I appreciate as a mid-western state history buff, but I was moved and inspired by the hardships with which Harriet and her family members had to contend and overcome. Covering the 1800's and early 1900's, the author, Karla Wright, gave a wonderful description of how many historical milestones, such as the westward expansion, the Civil War, the Gold Rush, and the suffragette movement affected and strengthened this family.
I certainly recommend this book for anyone interested in Iowa – or any mid-western state) history.
I enjoyed the book both as a genealogist as well as a native Iowan with familiarity with the towns described within the story. It was well researched with appropriate documentation but was written in a manner that was easy to read, not textbook-y, so that a reader would enjoy learning about the Ankeny family and the history of the time in which it was written.
Fun
I enjoyed Iowa's Devoted Daughter having grown up in Iowa and now living near the city of Ankeny. The author has devoted a lot of time into the research of the Ankeny family genealogy and has written a fun historical fiction depicting the trials and tribulations of these families based on true facts. The day-to-day activities of women in the late 1800s and early 1900s were quite hard. They all faced many losses but they endured and carried on. They were the strength of their families.
A great historical narrative of what is was like to grow up in the Civil War era. Excellently researched and I loved the fact that the main character, Harriet, never married, and wanted to have a career. All based on the author's family tree and historical research. Summarizes letters from family members of their experiences in the civil war, and experiences with death. Good book!
I enjoyed the adventures of the family in early Ankeny. You can tell the book was well researched. I got real involved with Harriet Louise Ankeny. A very good read.
Iowa's Devoted Daughter is a very well written book which I thoroughly enjoyed. It is filled with history and a wonderful story about a family from Iowa.
Terrific read. Enjoyed very much. A lot of interesting history.
Iowa's Devoted Daughter is well written. I enjoyed how the historical facts were intertwined with the fictional story line of Harriet Louise Ankeny and other members of the Ankeny family that spanned all across the nation.
Author, Karla Wright chronicles the history of the Ankeny Family in the Historical Fiction book, Miss Harriet Louise Ankeny. I loved the book because of the tenacity of this family. They were leaders of their day and not afraid to think and act outside of the box paving their way from Ohio to Ankeny and then part of the time in Florida. They were risk takers obtaining loans from the bank to purchase property, businesses, if they failed they had success in another area. They started a citrus farm in Florida. The girls in the family were very much involved in the success of the family. They were leaders of their time. A very enjoyable read.
This book is a well-researched work of historical fiction that brings to life early times in Iowa. Told through Harriett Ankeny's eyes from childhood to adulthood, the reader has glimpses into the opportunities of settling in new territory, the family hardships during the Civil War era, and the day-to-day challenges and successes in Iowa's early days. What made it especially meaningful and captivating for me is that my ancestors settled in Iowa during the same time period as the Ankeny family. With Harriett's detailed descriptions, along with the photographs and illustrations, I could picture a day in the life of my family as well during this historically significant time. The author's combination of factual details and story-telling created a delightful and educational reading experience. This is a highly recommended book for any Iowa daughter (or son)!
Even though this book is fiction, there are many facts to follow during one family's adventure and success during the early settlement of Ankeny, Iowa. You can easily follow the footsteps of the main character Harriet Ankeny while reading the book. It is exciting to experience the hardships and success during the time periods before, during and after the civil war.
========
Purchase at:
Beaverdale Books, Des Moines, Iowa
Plot Twist Bookstore, Ankeny, Iowa
Ankeny Area Historical Museum, Ankeny, Iowa
Contact Karla at:  Karla@WrightSources.com
 ========
Find at:
Johnston Library, Johnston, Iowa
Kirkendall Library, Ankeny, Iowa
Des Moines Public Library, Des Moines, Iowa
Jesup Library, Jesup, Iowa
Polk City Library, Polk City, Iowa
Denver Library, Denver, Iowa
Sumner Library, Sumner, Iowa
New Hampton Library, New Hampton, Iowa